2  Etsy | One-of-a-kind gifts and ideas
5 Amazon | Unique deals you may not know about
---
Home Improvement Favourites
I've been repainting the interior of our home and here's some new top picks to make the job easier and better.
1. Fusion Mineral Paints
Our typical 1980s orange wood-stained cabinets had a glossy surface. To prepare them for painting, I cleaned them thoroughly with a degreasing product, sanded with 150 grit sanding blocks (it didn't take much effort), and then painted. The Fusion paint was easy to apply, gave excellent coverage, and required very little paint, which is good since it comes in small bottles. I applied the paint fairly lightly, assuming a second coat would be required, but I actually only had to touch up, rather than paint them all again (cheers, for that). Also, the way the paint adheres to the wood, it acts like it is absorbed rather than sitting on the surface, so I'm confident it will be less likely to chip than a latex paint used the same way. Time will tell, though. So far, top marks for this paint. Paint colours: Bedford (top cabinets) and Sterling (bottom cabinets).
I have no affiliation with this company. Here's the Fusion Mineral Paint site to find this paint in your area.
Next: backsplash (currently debating tile, textured wallpaper, or paint), and window treatment (to allow light but privacy).
2. Tool to Make Painting Easier (and Drip-Free)
I bought the Homeright Paint Stick specifically for repainting all of the ceilings in our house. My main goal was to find something that would catch any paint drips (from holding a roller overhead). This product is definitely a new favourite. I have been using it not only for ceiling painting but the walls as well. The main pole/handle is filled with paint (easy to do without mess) and gradually dispenses as you roll on the paint. It was so drip-proof that I could do the ceilings without having to cover the floors. Because it holds a good amount of paint, the whole job goes faster because you don't have to stop to reload the roller. See Homeright Paint Stick on Amazon.com.
---
Etsy
Empress of Dirt Etsy favourites
---
Garden T-Shirts
CLICK HERE
---
Wall Art / Quote
Poster Now Available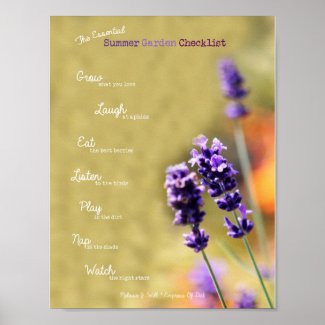 The Essential Summer Garden Checklist Poster by EmpressOfDirt
Order a print to keep on your desk or wherever you need this reminder.  😛
---
Amazon.com
If you shop at Amazon fairly often, it's worthwhile to sign up for Prime. This enables free shipping on many items plus other perks.
Try Amazon Prime 30-Day Free Trial
Looking for a fun or unique gift idea? 
Browse Amazon Interesting Finds
Love handmade items? 
Browse Amazon handmade

---
Empress of Dirt DIY eBooks
Garden art, indoor food growing, hand-dyeing fabrics, shoe painting, and more!
---
Books for Creative Gardening
I read a lot of gardening books and these are ones I return to over and over again.
12 Books for a Creative Garden
Happy gardening,
~Melissa the Empress of Dirt ♛