If you are interested in living frugally and/or debt-free, making the most of your purchases and getting fair or great deals on items you need, you have come to the right place. We live debt-free and have for many years, even when it drove our kids mad and it would have been easy to overspend. We also like to save money every time we shop. You can more about our story and tips here.
Get Deals by Email
Are you an Empress of Dirt Creative Gardening Newsletter subscriber? It's free. If so, you can also sign up to receive additional special notices with with coupons, deals, discounts, and unique gift ideas. When you receive your newsletter, look for the sign up button in the newsletter to get on this list.
The newsletter is sent every 2nd Friday. The special notices come out whenever there is something to good to keep to myself (occassionally).
I will share my favourites with you and be sure to get them to you while deals are hot. If you're going to shop, you might as well get a great deal.
Sign up here for the newsletter and watch for the special notices sign up button in your newsletter.
Favourite Shopping Ideas
Etsy
Empress of Dirt Etsy favourites
Wall Art / Quote
Poster Now Available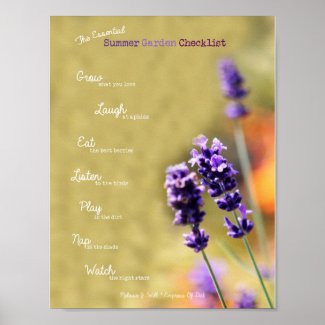 The Essential Summer Garden Checklist Poster by EmpressOfDirt
Order a print to keep on your desk or wherever you need this reminder.  😛
Gear for Cool Gardeners
I am a gardener.
What's your superpower?
Books & eBooks
Amazon
If you shop at Amazon fairly often, it's worthwhile to sign up for Prime. This enables free shipping on many items plus some other perks.
Try Amazon Prime 30-Day Free Trial